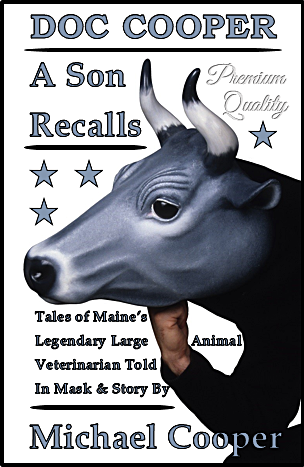 Doc Cooper - A Son Recalls
A childhood fascination with the wild animals of his native western Canada, followed by a teenage love of horses and adventure, eventually led my father to veterinary school, then across the continent to begin his storied career caring for the sick and injured animals of rural Maine. Dad may have been "from away", but through 60 years of dogged tenacity, and 3 million miles driving his signature red truck to the homesteads and farms dotting the western foothills of his beloved adopted state, he managed to earn, in the hearts of countless practitioners of the country life, the oh-so-rare title of Honorary Mainer.
Doc Cooper - A Son Recalls
The very first masks were probably animal masks worn by prehistoric hunters as they danced around the evening's fire re-enacting the details of their encounters with the mighty beast. It was the wonder of this timeless idea, as well as the beauty and power of the "transformation masks" made by the Northwest Tribes of coastal British Columbia and first exposed to me by my parents, that led me to my own forty year career of maskmaking and performing. And that is why, in the wake of my father's passing, I consider it a perfect fit and a perfect time to use my stories, my songs and especially my masks to portray this "last of a dying breed" and the animals who filled his world.
The Bullfrog
I carved this swamp dweller out of a pine tree harvested from my mother and father's land - a watery paradise they shared with vast numbers of nature's flora and fauna, and then passed on to their grateful children.
Temporary Sun Video
With it's blinking eyes and movable mouth this solar soul became so emblematic in my shows that I decided to use him as my logo.
The Monkey
"You little monkey", my mother would say when I was young. Little did she know.
The Horse
My father used to break in wild horses. He also courted my mother on horseback. So to me horses are one of life's essentials.
The Bulldog
This jabbering junkyard mutt would rather bark than bite, so listen up, 'cause he sure does have a lot to say!
The Chicken
A hinged beak and the way the mask is superimposed over me so that my face still peers through, gives this cluckster his charm.
Me
Oh what do you do with a scalp so smooth? Slip on a mask and start to move.