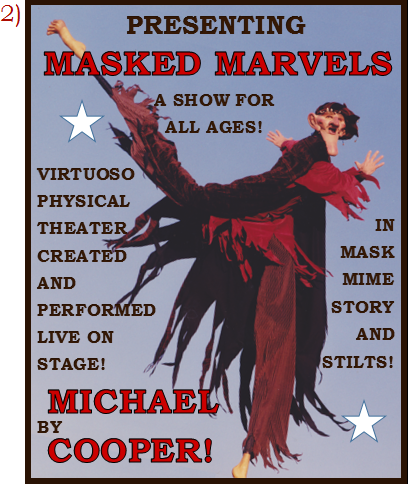 Masked Marvels
Michael Cooper is an eye-popping visual artist and virtuoso mime whose exquisite performances have dazzled audiences for over forty years. This one-man extravaganza combines his breathtaking handcrafted masks, original stories of courage and wonder, outlandish stilt dancing and a physical repertoire that ranges from the madcap to the sublime. The result is a "moving sculpture."
Taking up to three hundred hours to produce a single paper or wooden mask, Michael has elevated this most ancient of theater crafts to the level of a fine art. In addition, his ability as a wordsmith enables him to reel in the most discerning of crowds with the nuance of a poet, the joy and timing of a first rate comedian and the twists and intrigue of a master storyteller. And whether he's high kicking on giant legs, animating one of his magical creations or quite literally "leaning on air," the unending enthusiasm of this masked marvel captivates both young and old.
The Fish-or-man
Looking out at our lake one morning I saw a large mouth bass jump out of the water. By the time I filtered him through my childhood dreams and the lessons I had learned about "fishers of men" this is the character I came up with.
The Matador
Face your fears - but don't hurt anybody - says the talented but tender hearted bull fighter.
The Bull
Worn with short "arm stilts", this Picasso-esque bull struts and puffs a little like … Picasso!
The Baby
I made this mask to celebrate the birth of our first child. It opens every show because innocence is irresistible.
The Grandfather
This old man appears from beneath my baby mask - a combination inspired by the transformation masks of the Northwest Coastal Tribes of British Columbia, Canada where my parents were born and raised.
The Giant
Everyone has fantasized about being a giant. They are archetypes, and to see one dance is to find a secret entrance to a fairytale world.
Me Again
There are no hard lines between masks and puppets. I make them both. These fine feathered fellows with their flappable wings were inspired by the swooping barn swallows of my youth.